Comfortable Lazy Boy Office Chairs Reviews
Have you ever sat on the La-Z-Boy office chair? If yes, then you must know how amazing it is to sit on the comfiest chair while completing troubled office tasks. These luxurious leather bonded chairs can bring a sense of relief to your office routine, offering all the feelings of warmth.
You can call these chairs a perfect blend of traditional style with ultra-modern features. Brand's classic approach shows in classy brown, black, and white colors of chairs. But finding the best one is confusing. Because of the tons of varieties of chairs, claiming to be perfect for you.
So the question is how to get the one you need in your office. Don't worry, we understand you and that's why we've compiled the list of 11 comfortable lazy boy office chairs.
Want to save your valuable time? You can confidently buy our top pick La-Z-Boy Trafford Big And Tall. It stands proudly among others, because of its beneficial advanced features. Don't be concerned about this chair as it provides astonishing comfort with great durability.
List Of Comfortable Lazy Boy Office Chairs
You might also want to commit to a quick review with the aid of our comparison chart below!
Lazy Boy Office Chairs Reviews
So, What are some of the best comfortable Lazy boy office chairs? Let's see…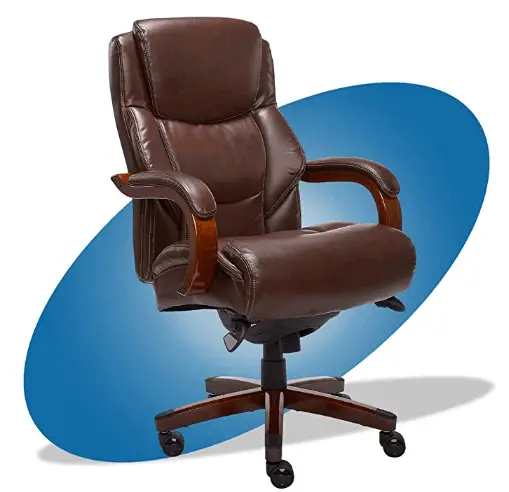 First on the list is the Delano Big and Tall Office Chair. Its big and tall design with foam cushion makes it one of the best comfortable chairs for office use. It is upholstered in soft and strong leather to add a stylish look to your office, and the appearance of this strong leather can easily tell the durability of this chair.
And soft leather with solid wood arms will give you the feeling of sitting in a cloud. If you put your attention on the cushion details, you'll come to know about its ComfortCore layered memory foam cushions. This comforted cushion introduces you to a new level of comfort in your hectic daily office routine.
And the superb part is its height, recline adjustability, and tilt settings are good news for people over 6ft. This big and tall chair has an advanced lumbar panel to ensure that the back frame hugs your body perfectly, providing all the relaxation to your back in long hours of work. The La-Z-Boy Delano Executive office chair is the perfect mixture of classic design with modern features.
Pros
Layered memory-Foam cushions
Easy-to-use levers for great adjustability
Ergonomic office chair
Cons
Insufficient guide for assembling
Cheap casters
Why is it on our list? The Delano executive office chair is incredible in providing comfort to your body when you need to do work for longer periods while sitting on the chair. You'll surely love this stylish addition to your home and office.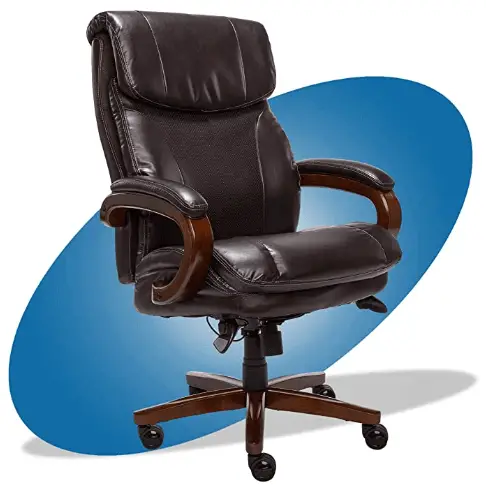 Trafford executive office chair comes with a beneficial addition, the elevated headrest. In case you want 5 minutes of relaxation break, you can just lean back to get the comfort of an amply padded headrest. This brief break provides great relief to your neck and head. Besides, your mind will be more productive when you get back to work after relaxing.
For running long sessions of meetings and discussions, this Trafford office chair gently supports your weight with the help of its waterfall seat edge. The beneficial thing about this special seat edge design is it maintains blood circulation and reduces leg pressure. Further, if you have a problem with back pain, the deeply layered foam pillow will reduce the back pain to the level you might even forget about it.
Know the feeling, when the forearms and wrists feel itchy and slight pain because you keep them on the hard armrest for a long time? Well, this lazy boy office chair has good news for you. The well-padded, solid wood armrest let the comfort reach through your forearms and wrists, offering contoured support and relief to them.
Pros
Seat-side controls
Smooth-rolling wheels
All-day comfort
Cons
A bit of complicated assembling
Could be noisy sometimes
Why is it on our list? The primary reason to like this Trafford chair is its specially designed waterfall seat edge. It enables you to sit in a comfortable position, holding your weight properly, and bring productivity to your work.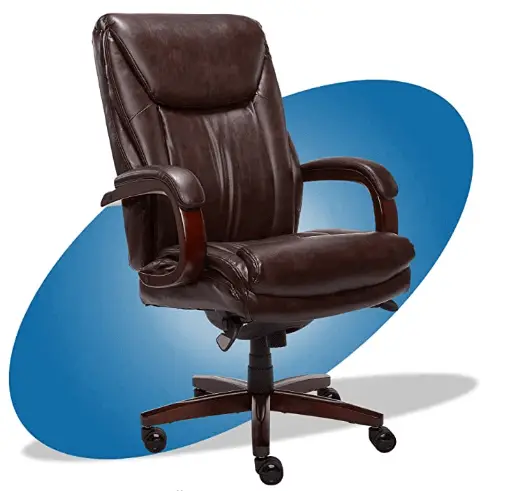 We all know the struggle to find a suitable chair for a larger body, and it's one of the hectic things to do. We solved this problem as we introduced this amazing Edmonton executive office chair. The chair perfectly holds a weight of up to 400 lbs, providing all the comfort your body needs while sitting in the chair and doing office work all day long.
Plush body pillows combine with a padded headrest to minimize the pressure points to provide that rested feeling to your body and neck after spending all day completing deadlines. They produce the cushions of the body pillow with La-Z Boy special ComfortCore technology that aims to give targeted support to your back. Besides, this technology enhances the stability and durability of the incredible Edmonton executive office chair.
You can customize this chair for personal fit, which means you can adjust its height, recline and tilt for optimized body alignment. Premium quality casters ensure smooth mobility, to give an elegant appearance to your office, its black bonded leather, and hand-sculpted wooden arms serve their stylish role successfully.
Pros
Sturdy ergonomic office chair
Heavy-duty casters
Hand sculpted wooden arms
Cons
Difficulty in assembling
Don't have enough durability
Why is it on our list? The very efficient feature to love in this Edmonton office chair is its capacity to hold the heavyweight. It holds the weight with an incredible level of comfort, proving itself the finest office chair.
Next in the line of La-Z-Boy best chairs, now it's the turn of the Hyland executive office chair to introduce its spectacular features to let you know what makes this office chair comfy and best. First, let's discuss the appearance, black bonded luxurious leather will complement the office interior for sure, and the solid wood arms provide a distinguished look to the office room.
Like all the Lazy Boy office chairs, this too has layered memory foam cushions for all-day astonishing comfort. To add some easiness to your busy office schedule, the Hyland office chair has Flexible air lumbar to maintain your posture and facilitate your body with complete back support whenever you decide to change the sitting position. After spending an entire day sitting in this comfy chair doing manic office work, your body won't feel a bit of fatigue.
The marvelous feature of this great chair is its adjustable and uncomplicated one-touch settings. Want to change the height setting, recline or tilt adjustment, you can change all this with much ease and relief with just one touch. Apart from these incredible features, it can support a weight of up to 2500 pounds with its multi-layered reliable seat cushion.
Pros
Adjustable one-touch settings
Flexible air lumbar technology
Solid wood arms
Cons
haven't thick cushions like other ones
Not enough clarity about the installing process
Why is it on our list? The Hyland office chair could be a valuable investment and precious addition to your home office or office room. Not just the stylish appearance but the magnificent comfort it offers for you will make you think to bring this cozy chair in your office now.
This Fairmont executive office chair is a heartthrob winner in laying out the great comfort. Ability to hold the weight of up to 400 pounds, they specifically produced it for the exceptionally congenial experience. Its memory foam multi-layered cushions support the targeted body parts that usually need extra comfort.
Discussing its body pillows. You know these pillows placed strategically on the places that offer zone-based support and amaze comfort to your back. Furthermore, its padded headrest makes the process of relaxation easy, just lean back and the snug of the headrest will engulf you in a warm feeling.
These few minutes of warm feeling can give you the freshness to work more productively on new projects and tasks. For having extraordinary durability, they have manufactured this chair with a thick plywood sub-core, reinforced back bar, and heavy-duty casters. To keep you stress-free for a long period. And about the appearance of this chair, all we can say is the beautiful brown bonded leather gives intense vibes of a classic.
Pros
Fully adjustable controls
Offers zone-based support
Made with thick plywood sub-core
Cons
Not for tall people
Creak noises
Why is it on our list? With some needed improvements, it can surely hold the title of the winner among other office chairs of the La-Z-Boy brand. Whether it's the classic appearance or the ultra-smart features, this office chair offers all these things that are pretty enough to make us fall in love with this.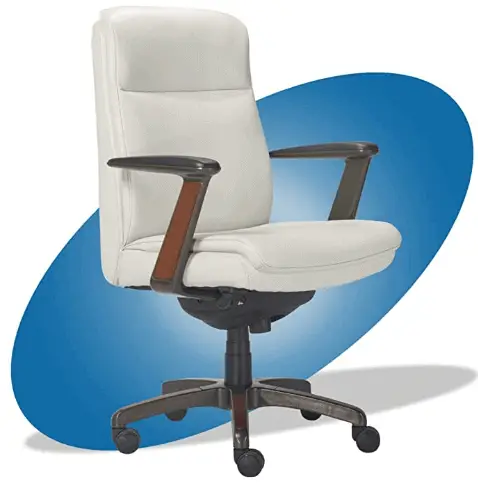 The Dawson Modern executive office computer chair is here to make you instantly feel like getting this elegant computer chair. The beautiful brown and white color enhances the big office setup in just a few moments. Just not for the office. You can buy this spectacular chair for your small gaming setup in the house.
It is upholstered in luxurious bonded leather, and the brief wood detailing on arms and base will make you feel proud to spend your money on this eye-catching office chair. The premium foam cushioning and built-in lumbar support transfer all its comfort to your body and won't let you feel tired because of sitting and working all day long.
During long sessions of conference meetings and project discussions, keeping your head on a cozy padded headrest might give you some needed relaxing moments. This swivel chair has a great adjustability system to allow you to customize the chair by changing the settings to your height, recline, and tilt.
Pros
Built-in lumbar support
Industrial grade materials
Provides astonishing comfort
Excellent value for money
Why is it our first pick? If you decide to choose this chair for yourself, then let us tell you one thing, you won't feel a bit of regret because of the exceptional purpose it will serve for you. And you can say goodbye to the back pain problem as this amazing comfortable chair will make you forget about it.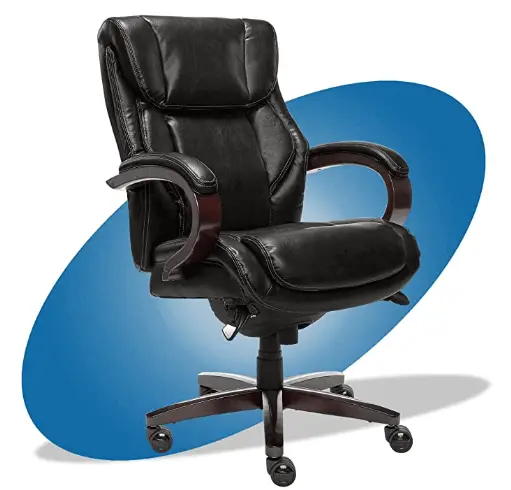 This ergonomic Bellamy Bonded executive office chair combines a traditional durability approach with modern features. The La-Z-Boy brand aims to provide the ultimate comfort with classic design to their customers, and the brand meets its approach successfully. The Bellamy Bonded office chair is the accurate proof of it.
Its soft bonded leather and solid wood arms base give a distinguished look to the visitors. Sophisticated style with impressive beneficial features, make this office chair a must-buy product. Apart from the appearance, let's talk about the comfort it offers you. ComfortCore layered memory-foam cushions provide engulfing comfort to your back and body, making you forget about all tiredness and hectic work routine.
Its adjustability is quite impressive; you can adjust the recline and tilt settings easily, as many times you want to change your sitting position with its ergonomic seat side controls. How can we forget its waterfall edge seat which helps in maintaining your sitting posture which is important for your spine health?
Pros
Premium cushioning
Ergonomic seat-side controls
Provides all-day comfort
Cons
Not suitable for tall people
Faces difficulty in reclining
Why is it on our list? It is a likable chair with pretty decent features, and to some level, it stands out to the consumer's expectations regarding durability and strength. Its capability to bring comfort to the office hours is quite surprising. You may give this office chair a try, it won't disappoint you.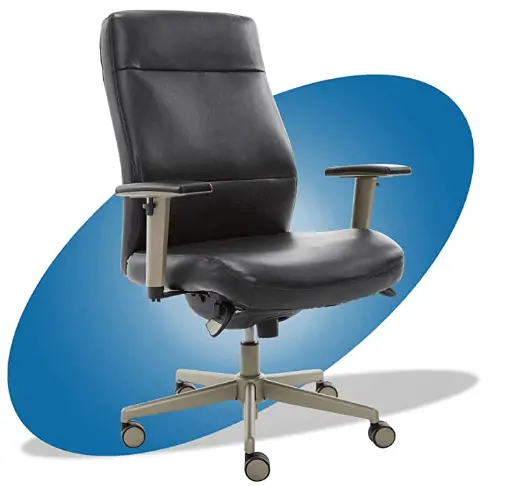 The first impression of this La-Z-Boy Baylor Modern Executive comfort chair is a classic old design with a generous seat that supports a weight of up to 275 pounds. Packed with soft luxurious black bonded leather, this swivel chair gives the sense of a seamless blend of modern features and the traditional approach of the brand.
It has memory-foam cushions that comprise multilayers that hug the body to provide support to the target areas. Now the special and efficient feature of this swivel chair is its unique design which offers soft support at the front of the cushion and compacted support at the back. For the extreme level of comfort, you'll also get a soft pillow top layer and padded arm sets.
Ergonomic control enables you to change the adjustments with ease. Adjust the height as you like and a strong tilt will lock all the changes and keep the chair in a specific place until you want to change the settings. Multi-surface mobility casters allow you to rotate the chair easily on plush carpets and hard floors.
Pros
Multi-surface mobility casters
Ergonomic control
Strong tilt system
Cons
Not ideal for heavy people
Insufficient instructions for assembling
Why is it on our list? This comfortable chair tries its best to give you a pleasant experience, but it surely needs some upgrades. Otherwise, the comfort level is satisfactory but not up to the standards. Good things about this office chair are its strong tilt system, ergonomic control, and high-quality casters. For short work sessions, it will be a splendid choice to go for.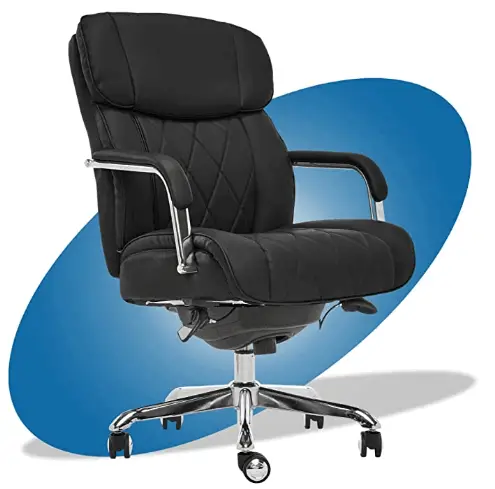 Want to have a luxurious-looking chair for your workspace? This La-Z-Boy Quilted Office Chair has a stylish design with premium features to offer you a luxurious feeling. Crafted with high-class bonded leather, it aims to provide excellent durability. This big chair is upholstered with a thick foam cushion to give you the required pleasant feeling during tough office work. And padded headrest is the perfect solution for sudden headaches for giving you instant relief.
If you have severe back pain, built-in lumbar support is all you need to reduce it. Its great lumbar support releases the pressure on your spine area, offering all the support to your body. Padded armrests are another desired addition to this ergonomic office chair. With this Quilted Leather Chair, you'll sit with comfort during a tough working schedule and you can say goodbye to the back pain as well.
Its height adjustment makes it suitable for short people as well. You can adjust the chair up to 3 inches to sit at a right angle. Adjustable recline helps you in taking control of the movements of the chair, and tilt settings allow the chair to rotate smoothly. And the chief point is you can adjust the chair with its Easy-to-use levelers.
Pros
Strong Steel Base
Pneumatic Seat Height
Excellent For Short People
Cons
Expensive Price
Not For Tall Person
Why is it on our list? If you're a short person finding a suitable chair for you, then you can consider this Squilted Office Chair. With all stunning features, durable casters maximize the quality of the chair and enable the chair to swivel with no creaking.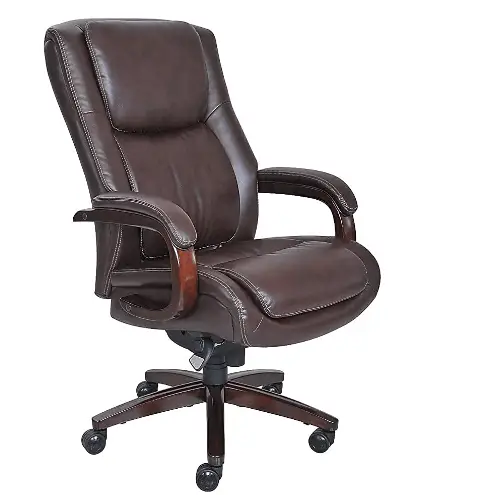 The Winston Bonded Leather Chair is another feature-packed chair for lazy boys. This classic brown leather chair gives classy vibes and complements the office interior. Upholstered with bonded leather and wood-finish accents, it meets the standard of stability and comfort. Its unique seat edge evens out your weight to reduce the pressure on the lower back. Whereas the built-in lumbar on the back contours the body, offering full comfort and support.
A padded headrest with upholstered armrests allows you to take a rest at the end of hectic meetings. The best thing about this chair is its armrests are placed slightly above the seat, which gives rest to your shoulders and neck. Simple adjustment settings are a timesaver, that's why this Winston Bonded Leather Chair has fingertip change control. If you want to adjust the chair to get a perfect sitting posture, you'll get it done within minutes.
The reclining system is useful and doesn't close up a bit, you can control it by changing the adjustment settings. And the sturdy casters smooth out the movements of the chair on plush carpets as well. It also helps in swiveling the chair excellently with no trouble.
Pros
Uncomplicated Adjustments
Ring-sized Arms
Holds Up To 400lbs
Cons
Unsupportive Return Policy
Complicated Recline System
Why is it on our list? You can't get high-quality features at this affordable price. From the assembling process to the comfort level, it ensures to bring easiness in your routine. With the weight-holding capacity, it's an agreeable choice for tall people. But, be aware of the return policy, because it is complicated.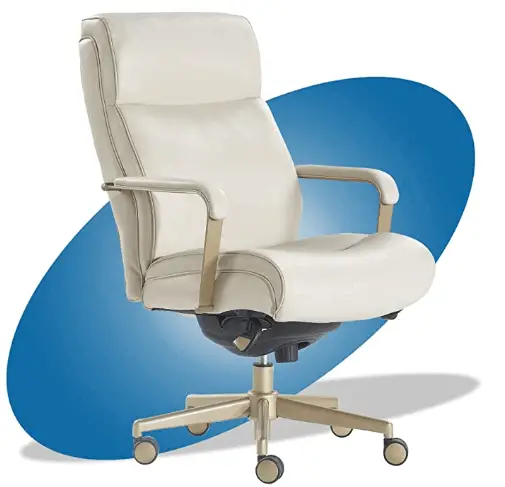 Last and the best, the Melrose Executive Office Chair has a modish design, and the outstanding ivory color looks sophisticated. Are you a short person or tall? Doesn't matter because this ergonomic chair has astonishing features with curvaceous height adjustment to give you a comfortable sitting position. Premium foam cushioning is the prime point to give relief to your body pain.
A deeply padded seat is helpful when you are having a busy schedule and can't afford to take a break from sitting. The foam cushion of the headrest and armrests allows you to recline back and feel luxurious and secure. Pneumatic height adjustment is the essential factor, as you surely don't want to sit in an uncomfortable position. The executive office chair also manages your weight when you recline back on the chair. It supports the weight of up to 250lbs.
Plus, the tilt settings keep the office chair in a customized position itself until you wish to change the adjustment settings with easy-to-use levelers. The 5-claw office chair promises to give you stable work experience and durable wheels help in maximizing your productivity.
Pros
Multifunctional Office Chair
Durable Bonded Leather
Provides Exceptional Comfort
Cons
Hectic Assembling Process
Not Durable Enough
Why is it on our list? It's a decent office chair at least price. You'll get entire comfort and support all day long. Also, you can use this multipurpose chair in your living room for playing games or either in your home office if you have work from home. But be ready to go through its time-consuming assembling process, it'll take more time compared to other chairs.
Buying Guide
Stop, don't rush to buy an office chair once you come to know only about its performance quality and features. If you want to enjoy the experience of comfort for many years then consider some essential features before adding the chair to the cart. Why is this enormously important? Because having the best office chair someone needs is only possible when they get the product their daily life requires.
Want to pick the best one among our 8 comfortable Lazy Boy office chairs. Know that taking care of the following things is a must if you don't want to waste your money.
Chair Size
Very first thing is to place your attention on the chair size, is it tall or big enough to support your weight and height or not? All the chairs included in our list have big designs, but a few of them might not be suitable enough for tall people. But the weight support of all of them is quite impressive. We've mentioned some extraordinary chairs having the best weight holding capacity like 400 pounds, 350 pounds in this article.
Cushion
After height and weight, now comes the comfort. For having magnified comfort, cushions play an essential part in chairs. Though La-Z-Boy is famous for its special ComfortCore memory foam and multi-layered cushions, some of the chairs have more thick and comfortable cushions than others. Like La-Z-Boy Dawson Modern Executive Office Computer Chair has a thick cozy cushion to give you an amazing experience of exploring comfort.
Armrests And Headrest
Best Comfortable seats have a thick form of cushions and built-in lumbar support to maintain the right sitting posture with a good amount of relaxation. Padded arm sets and headrest will be the cherry on the cake. Try to buy a chair that has this favorable package of relaxation for you, if you face severe body pains.
Adjustable Settings
Choose the right one that has ergonomic side controls to change the adjustable height and recline settings. So, you can change the settings with no complications and stand from the chair. The La-Z-Boy Hyland Office Chair has one-touch adjustable settings with a strong tilt for you, heading one more step towards your safety.
For further help, you can get guidance from our buying guide. And for removing some doubts and concerns, don't forget to look at FAQs. So you will choose the best lazy boy office chairs with confidence.
Now Let's Answer Some FAQs
What is the most comfortable office chair?
Lazy boy office chairs offer comfort and only comfort to you. Its unique memory foam cushion has multi-layers for extra thickness and cozy feeling.
Does La-Z Boy have office chairs?
Typically La-Z-Boy is related to living room furniture, but it also produces ergonomic and functional office chairs to bring comfort and easiness to your life.
Are La-Z Boy office chairs good? 
The La-Z-Boy's office chairs are famous for their ultra-soft cushions and the outstanding quality of comfort it provides. Their special lumbar support system maintains your back posture, reducing the pressure point and back pain.
Where Are Lazy Boy office chairs made?
La-Z-Boy is an American-based company, manufacturing furniture, recliners, sofas, office chairs, and lift chairs. Usually, its office chairs are made in Monroe, Michigan, and the USA.
Are Lazy Boy Office chairs guaranteed for life?
La-Z-Boy offers a limited lifetime warranty on office chairs, in cases of manufacturing defects if the purchaser owns the product and can give proof of purchase.
Overall Conclusion
Now, you've come to the end. You must have read about the 11 most comfortable Lazy Boy office chairs we've recommended for you. All their features, disadvantages, and the unique quality we like given in each product section. If you want to confirm some features or in case you wish to analyze the product and its features again, you can do it with much ease.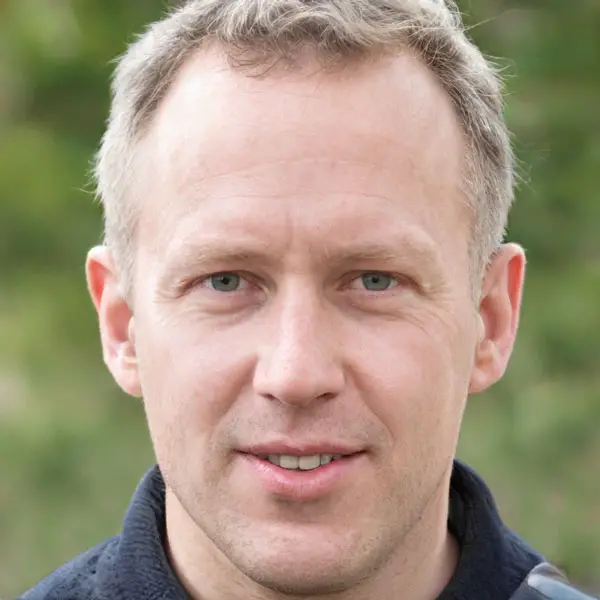 After sitting in a back breaking office chair for hours every day at his job, William Burch got the idea to start the Recliners Hunt website. William is focused on ergonomic chair design – as it is more important than ever today since we are spending more and more time sitting at our computers.