Massage chairs are all the hype these days. They do work pretty well. Pain in the muscles or bone does not always occur due to underlying diseases. Sometimes excess exercise and sudden twists in muscles can cause pain. However, they can easily be fixed by using massage chairs.
Massage chairs increase the blood flow circulation in the body, making sure the blood reaches the area of injury and are usually equipped with motors, which create vibration and help to provide relief to your muscles. 
However, finding the perfect massage chair can be challenging if you are a short person given that most chairs might not be adjustable or suitable for your height. But we have got you covered with our list of best massage chairs for short person so that you can enjoy a relaxing massage irrespective of your height.
So, have a read further and find the perfect massage chair for your needs.
Top 3 Picks for Best Massage Chair for Short Person
1. Kahuna Massage Chair LM-6800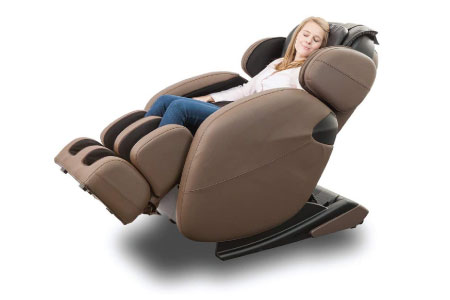 To start off, the LM-6800 is pocket friendly and arrives with all the new features pre-programmed into the chair. The chair is equipped with a hybrid L/S track design that provides massages extending to the glutes and thigh region. This is possible due to the availability of the qual rollers, which are placed along the chair to accommodate the spine's natural curvature. These rollers are not found in all chairs, and you will love the kind of massage they provide. 
The built-in zero gravity feature is new in the market and also offers multiple zero gravity options. The zero gravity options work magnificently along with the rollers and make the whole experience of the massage chair better. The chair elevates your knees above your heart, making the bodyweight press down on the rollers and helping deepen the massage. People suffering from chronic backaches love this feature. 
The body can be stretched and has a yoga stretch option, which provides fast relief from chronic back pain and a nice stretch. The pressure from the compressed discs in the spinal column gets massaged, which lessens the back pain fast and effectively. Also, the ottoman can be extended by around five inches to accommodate tall people as well as reduced to accommodate shorter people. 
The space-saving design of the massage chair is also a favorite of its users. There is also a 3D body scanning option available in the massage chair with automated re-positioning rollers. 
Pros
– Dual foot rollers and padding
– Space-saving design
– Centrally located heat transmitters

Cons
– No MP3 Support
– Difficult to assemble
– Cannot change timer

2. Osaki OS-4000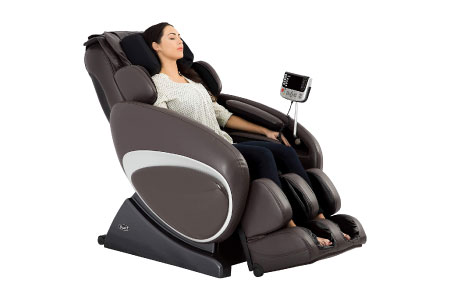 Osaka is one of the leading distributors of massage chairs in the market with many models and options. The OS-4000 is packed with some excellent pre-programmed features. The massage chair has four models, which are equipped with varying features. If you are a beginner in the field, you can choose to buy their hobbyist chair, whereas patrons generally prefer the serious user models.
The Zero gravity feature has two levers and provides deeper muscle and tissue massage. This feature helps relieve the pressure from the back and helps circulate blood flow. The weightless position will make sure you relax more efficiently, and its rollers will begin working on your back and thighs. The chairs also have the body scan technology fixed, through which the rollers automatically adjust themselves to suit the user. They adjust the height and weight according to each user, which makes sure you get the right fit. 
The ergonomic S-Track enhances the massage and allows the spine discs to part, helping in lower back pain reduction. The disc tissues hence are able to get much better blood flow and also nutrients. The massage chair is also fitted with next-generation air massages, which have a total of 38 total airbags, which helps to fit the surface area of the massage. 
Pros
– Seat massage targets thigh muscles
– Adjustable width
– Multiple massage programs
– Shoulder pressure massage

Cons
– Heavyweight
– Not suitable for young users

3. Real Relax Massage Chair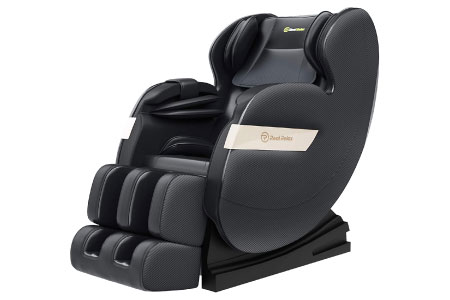 Real massage chair is very much affordable for all their customers. Its zero gravity features are magnificent, and it enhances the massage procedure with the add-on of the rollers and the tracks. The air massage mode is also great, and it equals some of the more expensive chairs on the market. The massage chair can deliver quite a solid and deep massage experience. 
The chair is equipped with complete calf and foot massagers. The comprehensive massagers use rollers and airbags for the procedure and have extra rollers just to massage the soles of the feet. However, this chair has a lot of improvement since the leg massage can be a bit harsh. 
However, this chair can fit both small and medium-bodied. The ottoman can also be extended, and the chair comes with an easy-to-use remote control. You will also find casters fixed to the bottom of the chair, which makes it easier to transport them from place to place. The massage chair comes in three colors, burgundy, black, and khaki, whichever one suits your decor and can hold a max weight of about 440.9 pounds. If you are a bit tight on budget, this would be the best chair for you. 
Pros
– Four auto preset massage programs
– Silent air pump
– Full body massage

Cons
– No MP3 support
– No options for a full-body scan
– Lack of rollers

4. Medical Breakthrough 4 v2 Recliner Massage Chair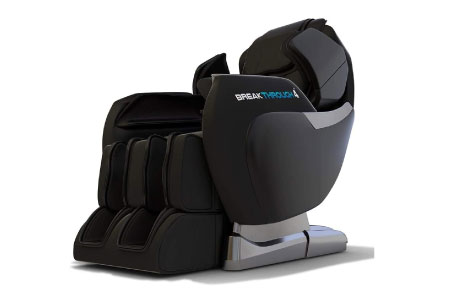 As you might have already guessed from the name, these are some of the best Medical grade chairs available in the market. The massage chair is fitted with an excellent body scan function and provides a great deep tissue massage. The brand has 36 years of chiropractic experience in the field and makes the best medical chairs available with luxury fittings. 
The massage chair has a lot of programs like Swedish massages and also full body reflexology. All their products are FDA approved and come with world-class facilities. The massages pre-programmed range from intense to relaxing. The intense massage is best used two times a week for those users frequently having back pain. The deep tissue massage provides a deep massage and gives fast relief for your lower back. The variety of massage techniques available with the chair is astonishing. 
The massage chair is also high quality with thick leather and single stitched for a seamless design. The massage chair also comes with comfort pads and provides much heat and pressure to soothe away the sore spots. The zero gravity option has only one default setting, which is quite a dealbreaker. The massage chair also comes with the true body scan feature, which is quite fascinating and works quite well on your sensitive spots. The sound system equipped with the chair can be connected via Bluetooth, or you can choose to listen to the calming sounds pre-programmed in the massage chair. 
Pros
– Big shoulder rollers
– Full body scan function
– Ergonometric design

Cons
– One zero gravity
– Pricey
– No memory function

Frequently Asked Questions (FAQs)
Do massage chairs work?
A massage chair will expose your back and shoulder to constant rollers or vibrations. Some massage chairs also use airbags to massage the problem area. It has been medically noted that massage chairs provide fast relief and work long term if used continually. Some massage chairs are also designed specifically to help people with back or shoulder pains and are FDA approved. Some massage chairs also work on your glutes and legs to ensure you get the best possible result. 
Which massage chair should you buy?
Most producers will have size specifications listed, so if you are a short or tall person, it is better to look through them before deciding. Make sure you note the kinds of massage functions available, like heat therapy, kneading, shiatsu. Zero gravity and inversion therapy are all the hype now, so make sure you try them out. Also, while buying a massage chair, make sure to look for one that can be easily installed and with at least five years of warranty. 
How to reduce sciatica pain while sitting?
Sciatica pain flares when you keep sitting for too long. Therefore make sure to stand and take a brisk walk even from one end of the room to another after sitting for 15 minutes. Make sure you do not cross your legs and position your feet flat on the floor when you sit. It is essential to keep the hips and knees bent at a 45-degree angle and make sure you do no twist and turn your body. It is better to get a chair with wheels instead of moving your body as a whole. 
Conclusion 
Massage chairs give you a lot of health benefits if used regularly. These chairs have a lot of customizable options catering to your body, fitted with speakers for a nice and relaxing time, massage options, and airbags fitted with rollers. Most of these chairs are adjustable to fit you if you are not quite that tall. However, before you begin using one of these massage chairs, make sure that you consult a physician first. We sure do hope that you try these chairs out and not be disappointed. 
Thank you for reading this far! I hope that the information provided in this article will be helpful to you.