If you have frequent back pain, I'm pretty sure that a back massage chair will help you to a great extent. Not all the conditions are due to underlying causes like diseases or bacteria. Sometimes back pain can occur due to exercise, lifting heavy things, sleeping in uncomfortable positions or maybe just wearing a poorly fitting backpack. A massage can easily relieve you of the problem.
A back massage chair massages your muscles and stimulates the blood flow to the areas of the back that have been lacking in some ways, maybe in oxygen or perhaps nutrients. Back massages are beneficial if you are experiencing some kind of muscle spasm. 
However, a back massage chair can be a costly investment and you'll definitely want to put your money in the right place. But how will you find the one that's good for your back pain?
Well, this article is to help you out with the same by offering a detailed review of some of the best massage chairs for back pain. So, go on, have a read, and find a quick relief to your excruciating backache.
Top 3 Picks for Best Massage Chairs for Back Pain
1. Luraco i7 Plus Chocolate Brown Medical Massager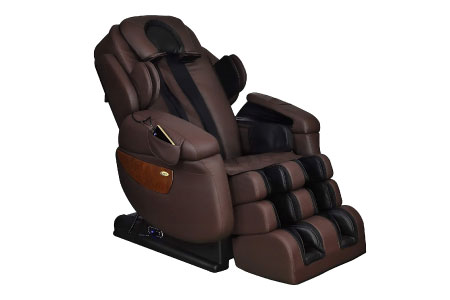 Luraco chocolate brown massage chair starts at $8990 and provides a 30-day in-home trial programme. After considerable research and design, the chair was built in the USA and offered a medical-grade massage experience. They also provide extra optional health benefits like health monitors, and you can see how the massage affects your body in real-time. The chair also provides a circulating air system to help the body adjust to the massage. 
The robotic massage chair is one of the best sellers in the market and can be customized according to your taste. However, if you are not a great fan of the chocolate brown color, this chair also comes in black and cream colors. You also get a free luraco fleece blanket with the purchase of the massage chair. This is a 7th generation chair made with the best of modern technology after years of research. 
You can keep track of your blood pressure and heart monitor, which are not readily available features in other massage chairs. The chair provides full-body heat therapy, includes a footrest, and gives gentle heat to the lower back, making it a great complementary programme. It also has a zero-gravity addition, which offers a raised position at only the push of a button. The leg extended option slightly helps to decompress the muscles and allows flexibility. 
Pros
– Full body heat massage
– Advanced air cell therapy
– New modifies Operating system
– Scanning and voice response

Cons
– Speakers do not offer excellent sound quality
– Feet massager lacks options

2. Human Touch Super Novo Massage Chair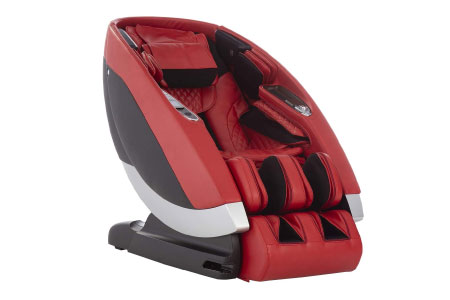 It starts at $9999 and has five colour options to choose from. This chair offers a three-dimensional massage through the spine and way down into your legs. It also connects to Alexa capability with the help of a virtual therapist. The chair provides you with dual lumbar heat, which is adjustable and targets the heat to gently soothe the back and loosen the leg muscles, which helps relieve pain. 
The extended heated foot and craft massagers are under the foot rollers and can be adjusted for intensity. The heat extends to the leg rest and adjusts automatically according to your height. The calf massage also opens to the knee area and smooths all the muscles. 
The chair is fitted with a unique S and L track massager built-in with multi-dimensional technology. The system extends along the spine and pressures the cord gently to release any tension. The 3D and 4D massage programmes offer a dimension of speed. You can also enjoy the built-in Altec premium sound system, which provides eight natural sounds to calm you down or can be connected via Bluetooth. The leather is also durable and offers maximum comfort. 
Pros
– Zero gravity seating
– 4D massage options
– Premium sound system
– Ergonometric features

Cons
– Not easy to assemble
– Music system lags

3. RELAXONCHAIR [MK-II Plus]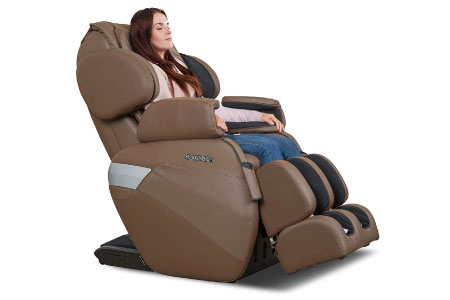 This new age whole body and zero gravity shiatsu massage chair come in charcoal and chocolate colour. It is a one of a kind massage chair and will fulfil all massage needs in one go. This chair is fully equipped with the new L track massage system and has four automatic programmes designed to mimic a professional massager's actions. 
It also has a one-handed remote controller with five specific target massage options and a unique computerized body scan. The L-track massage system makes this a unique chair and most sought after. The L-track reaches from the neck and shoulder area down to your core which helps to achieve much comfort and relief. The built-in heating system also helps release fatigue, and the chair is equipped with two heating pads to tackle the issue. 
The full-body air massage system is designed with airbags that can inflate and deflate, which causes the body to twist and stretch according to your needs; The airbags will work simultaneously to make sure they relieve pain and tension achieved by applying pain and pressure. The chair is also equipped with a computerized body scanning system, which measures the spine's length and pinpoints to specific massage locations on the body. It will cost you $7990 and gives two years warranty.
Pros
– Built-in quality
– Zero gravity
– Full-size remote controller
– Not expensive

4. Top Performance Kahuna Superior Massage Chair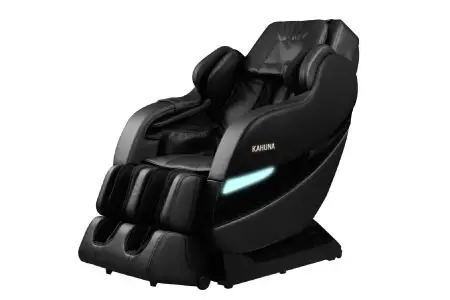 It started at $5999 and was a bit cheap. It also comes in two colours, coffee brown and dark brown. It effectively massages the body from the curvature of the head to the end of the buttock area and is also fitted with a six rollers system. The long extended Sl track also has two additional rollers, which help perform unique massage techniques. The chair is also equipped with triple Hip airbags and has up to five levels of air intensity. And also a golfer and dynamic mode. 
The massage chair also provides full coverage and comes with three different massage settings that work on the soles of the feet. The advanced foot massage option has a scraping massage and a rolling massage, and the kneading mechanism also provides an extra feel-good simulation and reduces muscle aches. Massages each week at least four times will be beneficial for your back. 
The space-saving and the zero-gravity also advanced space allows gentle transition and requires 3 inches off from any wall. A simple touch performs this zero gravity position to achieve a perfect massage. The chair also has a built-in yoga stretch option, and this is designed to eliminate toxins and waste products from the body. The opportunity to press against the injured area to release the blood flow into the area is perfect if you are tired. Also, the options for senior citizens massages are very sought-after by the community. Also, the chair has is leather-covered and easy to clean. 
Pros
– Relaxation auto programme
– Athlete auto programme
– Ergonomic design
– Senior modes

Frequently Asked Questions (FAQs)
Are massage chairs good for back pain?
Massages are good for back pain. They help reduce stress. Invert the overly tight or overworked parts in your body to make sure that the flow circulation continues to that area. Massage chairs also make sure to reduce the pressure from the overly tense muscles in your body and muscles which might have been put to strange places. A massage chair helps stretch the problem areas and make sure the muscles Get Loose, and relax them. It helps your skeletal structure. Consistent use of massages helps ensure that you do not get long-term problems and resolve any immediate issues if you have one. 
What type of chair is best for lower back pain?
Chairs with adjustable lumbar support whose location and farmers can be adjusted for the individual's body type is best for lower back pain. Chairs with external lumbar support pillows and a cutout design make sure to improve pain from the lower back. Having a waterfall design or a flexible is is also very helpful in reducing pressure and promoting good blood circulation in your lower back. This results in these numbers and even lower pain in the Lower Limbs.  
Conclusion 
Therefore we see that Back massage chairs do get the work done. Proper maintenance of that massager will last for quite a long time. Wish you hope that you will buy one of these chairs For your back And use it accordingly. These are some of the best chairs in the market. The chairs are fitted with modern age technology and also have built-in speakers. However, make sure that you ask your physician before using one of these. If you are using your back massage chair, do it regularly to get the best possible outcome.
Thank you for reading this far! I hope that the information provided in this article will be helpful to you.