Sciatica is a painful problem that mostly runs down one side of the body starting from lower back and stretching to the entire leg. Generally, doctors suggest medications and physiotherapy for relieving the issue. However, massage can also be a great way to relieve sciatic pain by releasing the tense muscles and relieving the pressure on the surrounding tissue.
The soft tissue massage also helps to increase pain tolerance and, in turn, releases endorphins, which are feel-good hormones. 
However, among so many options for massage chairs out there, it can be really confusing to find the one that sits right for your sciatica. But you need not worry. We have done all the research and got you covered with some of the best massage chairs for sciatica. So, go on, have a read, and find a relaxing relief to your sciatic pain.
Top 3 Picks for Best Massage Chair for Sciatica in 2023
1. Kahuna Massage Chair LM-6800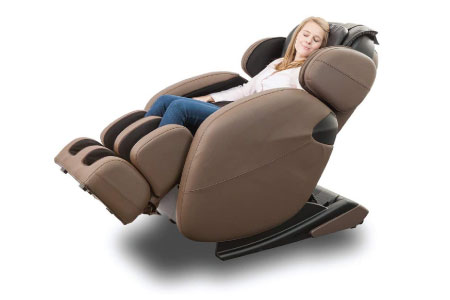 The Kahuna Massage chairs come with a computer body scan technology. You get the option to choose from five different portions of body massage programs, and it also provides three zero gravity positions. The all-in-one full-body massage is equipped with 36 other airbag massagers. There are also six automatic massage programs installed in the massage chair with four rollers and also an L track massage system. 
You get the option to choose from 3 levels of speed and pressure adjustments in the chair. The footrest is stretchable and flexible and can be adjusted according to your height. A quick heating technology is also equipped, which provides pressure and massages your back and legs. The massage chair also comes with a buttock roller massager and has yoga programmes that stretch the whole body vertically and also hold the shoulder and pushes to stretch the shoulder blades and the neck. 
There is a built-in castor for easy movement. The shiatsu therapy, which translates to finger pressure, helps to assist stretching and joint manipulation and mobilization. The LM-6800 provides treatment based on the shiatsu technique, which helps give the best massage experience. The yoga programme is helpful and eliminates toxins and waste products from the body, making the body light and relieving stress. This option is best for a tired body. 
Pros
– 6 Automatic massage programmes
– Three zero-gravity positions
– Computer full body scan technology 
– Built-in castor 

2. Daiwa Massage Chair Extended L-Shaped
The Daiwa massage chair is fitted with rocking and rotation technology and also an extra-long L shaped massage track. This chair is one of the most advanced states of art massage chairs with quality features. The massage chair is available in three colors, Black, Chocolate Brown and Sienna brown. The chair has a 48 Airbag massage system. 
The automatic leg extension extends up to 5.5 inches for taller people, and the rocking rotation technology helps to generate the feel of a classic rocking chair. You can get the feeling of floating on air while your body engages in a relaxing massage. The massage track makes sure to provide a custom contour to your spine and command position 2 of the zero-gravity options, elevating the legs above the position of the heart. 
The top-class sound speaker can be connected wirelessly for you to be able to listen to your favorite songs and experience the benefits of music therapy. The rhythm mode is manual and helps to massage in sync with the music. 
Pros
– L shaped massage track
– Special heat therapy
– Whole-body wellness

3. Real Relax Massage Chair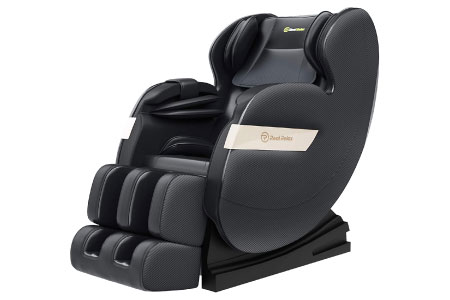 This massage chair is equipped with eight massage and neck rollers and 50 airbags which are situated around the shoulders and arms, and hips. The foot rollers also do a tremendous job. Make sure to use the smart remote, which will relieve your tense and sore muscles and also allow you to connect to Bluetooth to play the music while you unwind. 
The zero gravity option will allow you to recline at various programmed angles. The air massage mode also delivers quite a solid massage experience. The chair is also pretty cheap and provides a good and professional grade massage at a fraction of the cost. The ottoman can be extended to accommodate users who are up to 6'3 feet tall, an option you won't get in most other massage chairs.  
The remote is easy to use, and there is no learning curve. You need to sit down and start relaxing right away. The chair also has casters that are mounted to the bottom, and there is not quite a lot of clearance, so moving the chair might be a bit difficult for you. The massage also has an option that provides you with the feeling of physics massaging techniques by increasing and decreasing the speed. 
Pros
– Ergonometric design
– One-button zero gravity option
– Heat foot roller

Cons
– Basic Adjustment features
– Chair bit bulky

4. Luraco i7 PLUS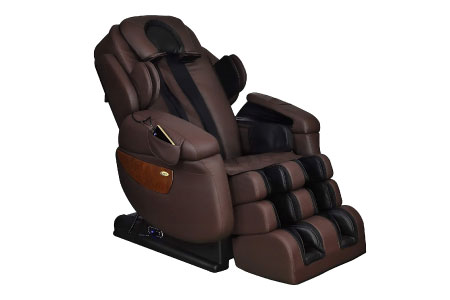 The Luraco i7 Plus is one of the best massage chairs in the market. It is FDA recognized as an actual medical device. The massage chair is known to reduce stress levels by 44% and also stress discomfort by 47%. The chair also provides customizable heating and massage functions. The chair comes in three colors of black, brown and cream. The chair has nine automatic massage programmes. 
The chair is medically researched and is one of the first American made massage chairs in the industry. The chair is fitted with 3D massage rollers and also has zero gravity options. The S-track design is very sought after in the massage roller industry. It is equipped with dual mechanical foot rollers and provides advanced air compression massage. The full-body heat therapy offers quick relief and comfort to muscle pain. 
The massage chair also provides a body twisting programme and has a health monitoring system in place. The multi-language response system is entirely new. The massage chair is equipped with a touch screen remote and has airbag stability and five customizable memory programmes. With a top music system inbuilt in the chair, it also provides noise reduction technology. 
Pros
– FDA recognized medical device
– Easy assembly
– Customizable heating functions
– Quiet seating experience

Cons
No space-saving mechanism

Frequently Asked Questions (FAQs)
Do massage chairs work for Sciatica?
Massage chairs help to improve sciatica pain in many ways. They work to provide heat and pressure along the lower back and legs, which in turn relaxes the pressure placed on your nerves. Massage chairs start providing relief for sciatica pain in a short while. Also, these massage chairs have options to provide you with a customized massage, which will focus on the much needed area, like the back of thigh area. Massaging your glutes provide with immense pain relief for Sciatica. 
What kind of chair is best for Sciatica?
If you are suffering from pain due to Sciatica, it is better to get a reclined chair than a normal one. Chairs, which also provide excellent lumbar support, are perfect for Sciatica people. Recliners offer comfort and support, just what is needed. Also, chairs with back backing like wedges can help alleviate the pain. Using cushion on your chair but not too soft ones are also a great option to help with the pain. Also, make sure to buy a footrest along with the chair. 
How should I sit to Relieve Sciatica?
For people suffering from Sciatica, it's not a great option to keep on sitting for long periods. However, you can use a few methods to alleviate the pain from sitting down. Make sure to sit up straight and back into your chair. This will ensure that your back and buttocks are supported and do not sit leaning forward from the chair. It's best to sit with feet flat on the floor, without crossing your legs or leaning from side to side. It is also a good idea to use a prop to lift your feet. 
Conclusion
These are some of the best massage chairs in the markets for people diagnosed with Sciatica. The massage chairs will last you a long time, with proper maintenance and cleaning. Make sure to use the massage chair consistently or at least five times a week. This helps to work your back muscles and leg muscles like regular exercise, and you will not be prone to sudden sciatic attacks. Make sure to buy the massage chair which suits your needs completely and have it installed by a professional. We hope that the massage chair really helps you with managing sciatica pain and other conditions. 
Thank you for reading this far! I hope that the information provided in this article will be helpful to you.