Undoubtedly, 300$ is the perfect mark to have an ergonomically built yet High-quality office chair, without breaking a bank. And luckily, you are on the lookout with the same budget in your pocket.
But the real challenge is to navigate the best office chairs under $300 in the market, where many chairs are overpriced and claim to be the best without any reason. And some are so under-rated that will you avoid considering them while making a decision.
Believe me or not, you would have to put a lot of effort into listing down possible options, evaluating, comparing them and reading their reviews.
Otherwise, you could be the victim of manufacturers marketing gimmicks and failed to get the one that can make you experience the luxury of High-end desk chairs, without denting your pocket.
Well, Don't Panic!
Because we are already done with all the hard work to make your buying journey much easier.
All of your work has now been narrowed down, to just reading our unbiased reviews of our hand-picked best of the best options, to make the final decision as per your budget and requirements.
Let's get right into them;
Best Office Chair Under $300 Reviews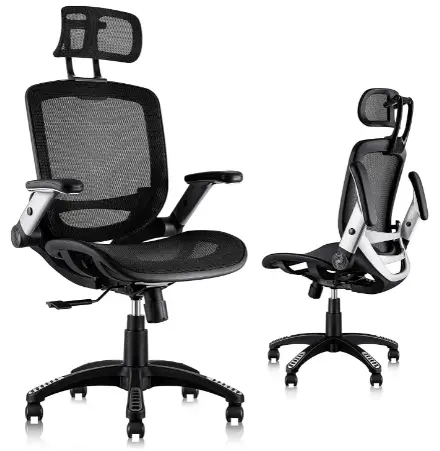 Gabrylly Ergonomic Chair is our top pick for this roundup because this is the one that can defeat many top-rated yet high-end chairs in terms of features, functionality, and more importantly, the price tag.
Let's give a look at the reasons that make it to be the top-picked.
The credibility of this chair for its durable and solid construction with the high-quality nylon, PU casters, and the long-lasting gas lift cylinder are the only basic reasons that made this chair to be the top-picked.
There's a lot more to this!
The chair features all the supporting points including the head, back, hips, and hand along with the non-adjustable lumbar support.
With all these supporting points, you will feel really comfortable. But knowing everyone feel comfortable in different sitting posture and style, the supporting points are designed adjustable. You can easily adjust the chair to your comfort level.
The armrests adjustability allows you to fold them away in the range of 45 degrees, for clearing up your space, if want to. The headrest support's adjustability allows you to tilt or height it up. Whereas, the backrest can be tilted as well, with the 90-120 degree reclining capacity. Now imagine, the comfort level that you can achieve with the chair.
That's not all!
From top to bottom, the chair has been made with mesh material, for better breathability and ventilation. No matter, how long you keep sitting on it, the chair won't make you sweat due to the mesh only. In fact, you can use it even at the hottest temperature. What else do you need?
1-year warranty, an easy installation process, and the dimension being good enough to accommodate almost every body type are some added benefits of this chair.
Final words
If you are somewhere 5'5″ to 6'2″ and does not weigh more than 280 lbs., you have no reason to avoid having this desk chair. Because Gabrylly office chair is providing you with the perfect value for money that is hard to find in over flooded chair's market.
Pros
Durable
Comfortable
Aesthetic design
Breathable
Can be adjusted to your comfort
Easy to assemble
Cons
Non-adjustable lumbar support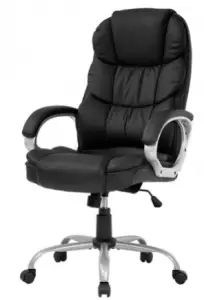 Well, if you are looking for something much more affordable than the Gabrylly office chair, then the FDW Executive chair could grab your attention. Because this is the most affordable option to have, without sacrificing the quality and comfort.
The steel frame, BIMFA Certified gas lift cylinder, and the weight-bearing base of the chair along with the PU leather reflect it to be the most durable and sturdy chair. In fact, after looking at all these parts, there remains no doubt about the quality.
Whereas, the best part is that manufacturers choose PU leather, which always brings ease in cleaning as this material is both water and stain-resistant. You won't ever face any struggle cleaning it up.
Durability is good enough to go with, but is it even comfortable?
Have a look;
The high back of the chair is soft and features a spongy seat design. Along with that, the lumbar support, and cushioned seats is also the perfect combination, in addition to the thick-padded headrest and padded armrests to make you comfortable, while sitting on it.
But if still, these features are not enough, here's some more that can excite you;
The chair allows you to rock on it, for up to 120 degrees, and let you adjust the height while offering a 360-degree swivel.
Just imagine, how can't this chair make you feel comfortable, despite having all these interesting features?
Final words
If you don't want to spend a lot on the office chair, FDW is the perfect chair to have for its comfort, padded yet durable construction and adjustability options. However, it is only suitable for you, if you do not weigh more than 250 lbs.
Pros
Attractive design
Can be assembled within 10-20 minutes easily
Thick padded back and armrests
Wider and cushioned seat
Affordable
Cons
Non-breathable material
Not recommended for hotter temperature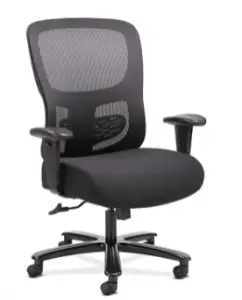 If Gabrylly and FDW have disappointed you in terms of the weight-bearing capacity and the sitting area because of you being big and tall, then here comes a deal for you as well.
Because HON Sadie Office chair is perfectly designed to accommodate almost every body type, even if you are above-average big and tall. Precisely, the chair can bear the weight of up to 400 Pounds and have a seat with a wider width of 30.31 Inches.
Well, this is not the only reason for which the chair has made its way to our list of 6 best Office Chairs under $300. There are many others.
Let's explore them as well;
The chair is designed with mesh at the back, for keeping it breathable. And you already know that it helps a lot in a hotter climate, and its ventilation does not let you sweat, irrespective of how long you sit on it.  Ultimately, help you to achieve comfort while working on it. Other than that the U-Shaped pool that is padded with the memory foam also contributed evenly to your comfort.
Further, the chair is also at its best, when it comes to adjustability. You get adjustable lumbar support, for having enhanced lower back support while leaning in your comfortable posture. The armrests are also adjustable in terms of height, which is good enough for your upper back and the shoulder.
As far as durability is concerned, the weight-bearing capacity may already give you the signal that it has a strong built quality, with a solid frame, and high-quality casters. You would be using it for many years to come, without finding it damaged if properly and carefully used.
Final words
The headrest and the footrest are missed in this chair, but still good enough to go with under this budget category for its comfort, durability, and adjustability.
Pros
Can bear the weight up to 40 pounds
Adjustable lumbar support
Padded with memory foam
Mesh Fabric for better breathability and ventilation
Can be used for hours and hours
Cons
The built does not make it suitable for short people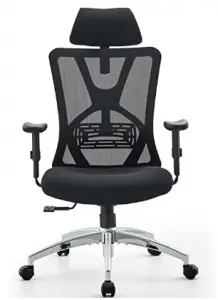 If the headrest is must needed feature for you, then drop the idea of having HON Sadie, and better to look at the Ticova Ergonomic office chair. Interestingly, you won't have to spend few more bucks rather you can save some on a ticova office chair.
But does it even score better in terms of durability, comfort and adjustability?
Yes, it is!
Here's how;
The chairs with the same price range are rare to offer you adjustable lumbar support, quality armrests, a comfortable seat, and rocking ability. But that's not the case with the Ticova, as it has almost every feature that you can expect in high-quality chairs.
Ticova offers the adjustable lumbar support aligning the chair's back with your spine, for a greater level of comfort. More importantly, to reduce neck, shoulder pain, and fatigue. You will always find yourself in the perfect sitting posture whenever working on this chair due to this only feature.
Along with that, the PU padded armrest is not only comfortable but also adjustable, the headrest can be adjusted height and angle wise to your comfort.
The seat of the chair features a W-shaped design and features a 3 inches high-density foam, to make you experience enhanced comfort. The best part of the seat design is that it evenly distributes your weight, reduce pressure. Hence, help in eliminating the buttock pain issue.
Moreover, the Ticova chair's back is of Mesh material, which means you won't be sweating in a hot climate and will always remain cool, because of the airflow and ventilation
Have not I mention, you can also rock on the chair for up to 140 degrees?
Final words
If you need a chair with all the expected features in it while saving few bucks. Ticova Ergonomic chair must be your top consideration.
Pros
High density cushioned foam
Can be rocked up to 140 degree
Mesh back for breathability
Comfortable and adjustable headrest
Durable
Cons
The lower back is adjustable but not padded properly
Armrests can be adjusted in 2 directions only (up and down)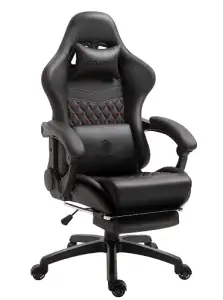 Being the one who loves to do gaming for relaxing himself, after getting free from all day hectic office work, you must consider getting a Dowinx Multi-purpose office chair for under $300.
Because of being gaming enthusiasts and office worker, you must be spending more than half of your day on a chair. And do you know? Spending more than half of your day on the wrong chair can cause many health issues, which you won't have to face if using a Dowinx chair.
Let me explain why;
Dowinx chair is designed with thickened cushioning with the help of high-density foam padding. And also features enhanced support with the massage function, which is good enough to help you reduce the overall fatigue and eliminate neck, shoulder and lower back pains. You just need to keep it power up with a USB cable (that comes along) to make it perform effectively all the time.
Further, the wing back design of the seat does not make you feel be sitting on a chair but sitting in the chair. However, this design is not to make you feel this way only, but to help you in having multiple contact points for evenly distributed pressure as well, and ultimately keeping you comfortable all day long.
The solidly built metal frame, nylon base with the weight-bearing capacity of 120 pounds, BIFMA and SGS certified high-quality gas lift cylinder, also speak out loud about the durability and the long-lasting nature of the chair. You won't find it to be damaged easily but will keep using it for years.
Final words
The Construction and the ergonomics of the chair make it a perfect Multi-purpose chair. Either you want to read, nap comfortably, do gaming or office work, this chair will serve you all the time with the same level of support and comfort. There comes no reason to avoid taking this home.
Pros
Features padded footrest
Can bear weight up to 300 pounds
Cushioning in lumbar support and headrest
Foam Padded seat
Perfectly designed chair seat
Cons
Lumbar support does not feature ventilation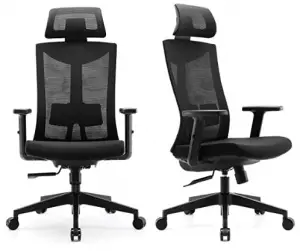 Here comes the last recommendation of the round-up; "Best office chairs under $300â€, but this does not mean at all that it lacks somewhere from the aforementioned computer chairs. Because all of these are not put according to any specific ranking.
Even, SIHOO has an additional feature that you won't find in any other recommended chair other than Dowinx, and that is a padded footrest. We know its rear under the price of $300, and can only be found in high-end and expensive chairs, but SHIOO is serving it at an affordable price.
However, not only this footrest make it look like an expensive purchase but the overall look and the design of the chair also make some people believe that it can't be bought without spending a lot of bucks.
Rest assured, SIHOO Chair is also incredibly built when it comes to comfort. The seat is padded with elastic styling support and features soft support. More importantly, the material used in its construction is not only Mesh but the fabric cotton as well. You will hardly see any competing chairs using both of the materials, as they prefer to use only the one for reducing the cost.
Needless to mention, due to the mesh material, the chair keeps you cool with the proper airflow and ventilation.
In addition to all this, the chair can also be reclined from 90 to 120 degrees and can be locked as well at the desired degree, while adjusting the tension. How can't you remain comfortable on such type of chair for hours and hours? Surely, you will.
Lastly, its padded headrest is also made adjustable for up to 4 inches in both directions, up and down. And the chair can be used on any type of flooring. All thanks to its silent PU casters.
Final words
SIHOO has every feature that you can expect in any best yet high-end desk chair. Though, you must not get it only, if you weigh more than 330 lbs. Otherwise, it can be proved to be the best decision of your life.
Pros
Fully adjustable
Attractively and Ergonomically designed
Value for money
1 year of warranty
Good built quality
Cons
The seat cushion has to be improved
The seat pan title mechanism is not there
Things to consider when buying an office chair under $300
Whenever you get on an adventure of finding the best office chair under $300, you must consider the following factors.
They all are the same that we used to hand-picked top office chairs under $300 for this roundup.
Have a look;
Chairs Material
When you are hunting for a chair under $300, just bear in mind that you won't be able to find a chair with genuine leather. Instead, salesmen can trick you by selling you a fragile chair with low-quality leather.
So, it's better to navigate only the chair with mesh material!
But if you still want to have a chair with a leather look, you must ask for the faux leather. As far as our recommendation is concerned, you must settle down on a chair with mesh, as it helps you with the breathability, airflow and provides you value for money.
Weight Capacity
Every chair has a different weight-bearing capacity. So, you should consider your weight and a chair's capacity. If you are big and tall with the 400 pounds weight, then getting a chair with 250 pounds of bearing capacity, won't be a prudent decision.
Though, if you are averagely weighted, then still we would recommend you go with the chair having at least 250 pounds of weight-bearing capacity so that you can get the best out of the deal. Otherwise, get the chair according to your own built and weight.
Lumbar support
Your chair must have lumbar support either adjustable or non-adjustable, but it must be there. Because being office worker, you would be spending a lot of time on a chair, and if it's not there, you can suffer from neck and back pains.
Adjustability
You must check out, what parts of the chair are adjustable. Whether the headrest, armrest, lumbar support and height is adjustable or not. And then align the chair's adjustability with your need, if they fulfil your requirement, you must get it.
Here's a simple rule of thumb to keep in mind, while checking adjustability
And that is;
'The more adjustability means the more comfort!â€
Frequently Asked Questions – FAQ's
What is the best office chair for the money under $300?
For the value of money, none can beat Ticova Ergonomic Office Chair, if you are on the lookout for an office chair under the budget of $300. It provides all the essential features, comfort and support, which can't be found even in some of the expensive chairs.
What is the best cheap office chair under $300?
From all of the recommended chairs, we found FDW High Back Executive Office Chair to be the most affordable option that does not make you sacrifice the quality for saving few bucks. Instead, it has all the interesting features of a chair to make you comfortable.
What is the best office chair for sitting all day?
If your working space is not air-conditioned, or your space climate always turns out to be hotter, then Gabrylly Ergonomic Office Chair would be the best purchase. Otherwise, you can consider getting a Dowinx Office chair.
Final thoughts; should you Buy an Office Chair under $300?
300$ budget is good enough to have an ergonomic chair with all the features of some high-end chairs, without settling down on any substandard chair. The only drawback of this budget is that you can't find a chair with genuine leather, but for the price this makes sense.
You must grab the chair without wasting any further time for saving few more bucks because you could get the same kind of deal that you want to have under 300$ as well. And luckily we have listed all of them.
If you are still feeling confused, let us know in the comment box.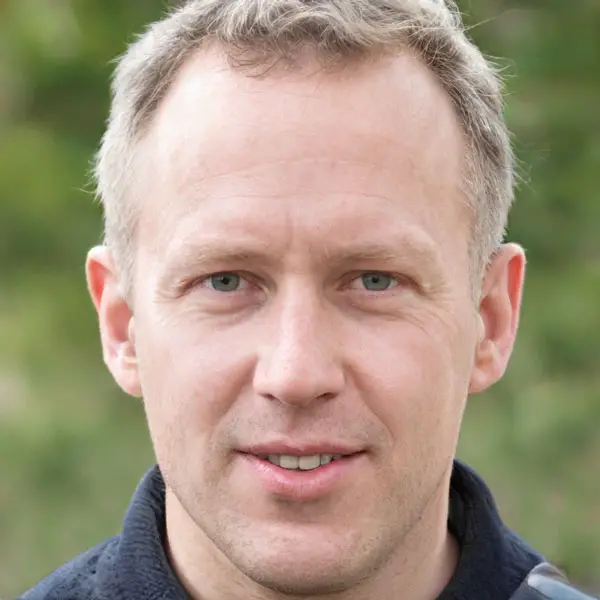 After sitting in a back breaking office chair for hours every day at his job, William Burch got the idea to start the Recliners Hunt website. William is focused on ergonomic chair design – as it is more important than ever today since we are spending more and more time sitting at our computers.